Monday night Mr. and I spent several hours outside working in the yard. He mowed and weed whacked everything and edged the lawn. I went to Smiths Marketplace and picked up some perennials and some ground cover (all on sale) and a few 6-packs of annuals.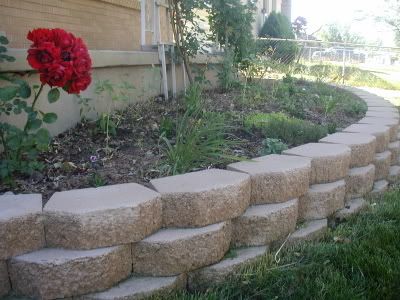 The lawn looks great, no dead spots (at least no major ones- well there's the area that we don't have sprinklers in, but we're going to do something else with that one of these days, so it doesn't count). I pulled all the junk out of the front flower bed. I often trim the roses and just let the branches fall into the flower bed, so that along with the dead tulip/daffodil leaves made the whole thing pretty messy looking. It's all cleaned up with the new perennials and annuals planted (although it could use more annuals until the perennials grow a little more).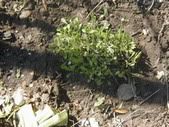 I also planted some ground cover in a small strip of earth between the fence and the sidewalk. It used to be weeds, but this spring we cleaned it up and filled it with bulbs. Hopefully the ground cover will fill out and keep the weeds down.
Our yard looks like someone cares about it. Now we just need to get a new front door (we painted the screen door red last summer, or the summer before that, I don't remember but it looks bad again and I don't think it will be worth repainting...).
If we could get the inside finished, we'd be in a good spot to sell (but it's not finished, and we're not ready to move for a few more years, so nobody get excited).