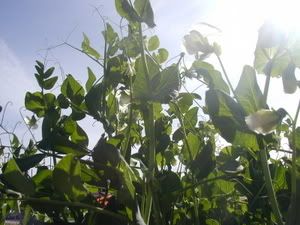 I love peas. The last several years I haven't planted enough. They never made it into the house because we (meaning I) would just sit out in the garden and eat them all. This year I planted almost a full raised bed of peas. It's a good thing too, because I am no longer the main "pea gobbler", as my 4-year-old has named us.
My 4-year-old loved peas, but the big surprise is my two-year-old. He can't get enough. He wanders over to the peas whenever we're outside, and comes back to me with a handful for me to open.
A few days ago I had picked a bucket of peas and left it on the kitchen table. I came into the kitchen to see what mischief the boys were up to (it had gotten a little too quiet if you know what I mean), and they were sitting at the table "gobbling" peas.
They really liked the salad mix from the garden too.
Maybe the tomatoes this summer will convince my 2-year-old that he really does like tomatoes... Currently he won't eat them.