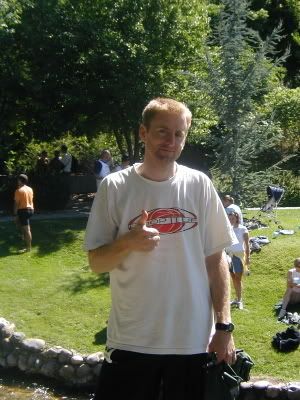 Today was the day. The Mr. left around 5:15 this morning for the 6:00 race. I took the kids in to watch for him finish at 8:30. His time was 3 hours and 18 minutes. I am so proud of him. He's been wanting to run more regularly for as long as I've known him, and now he's really done something that he had to train hard for. Go Mr.!!!!!
For more information on the race itself, click on the title.
He looked pretty beat when he crossed the finish line, but he wasn't bleeding, which is more than I can say about a lot of the other finishers, including his brother (who finished 20 minutes ahead of him).
You can tell how happy he feels about his accomplishment in this picture. Taken about an hour after he finished running.