I took the girls on their first outing into the backyard this afternoon. They were a little hesitant and kept hopping back onto the cement, but I think they enjoyed themselves. The pecked at the dirt and bugs, they scratched around, and they fluffed up their feathers.
It looks like chicken watching may become a fun family activity around here.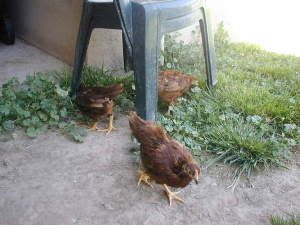 The girls, (clockwise, starting under the chair) Chickie, Red, and Black are 6 weeks old today. I've turned off their heating lamp, which makes the hen house pretty dark. I'm hoping to get some windows cut tomorrow to let them have a little more light.