I got these tomato towers for my birthday (an early birthday present, I'll be enjoying tomatoes when my birthday actually arrives).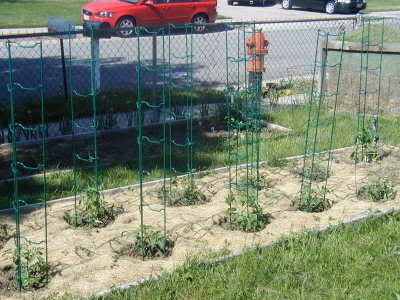 The only things left to plant are corn and beans. I'm also inheriting some onion plants, but they may have to be tucked around everything else. I bought way too much of the large take-over-the-garden-with-vines type of plants. It should be interesting.
I have one Beefsteak tomato
one brandywine
one christmas grape (cherry tomato that my 4-year-old picked out all by himself)
ten Romas
sugar snap peas
alladin pumpkin
orange smoothie pumpkin
Red Warty Thing (a fun cross between a pumpkin and a hubbard squash)
two yellow crookneck squashes
one zucchini plant
two acorn squash
one cantalope
4 california wonder green peppers
4 some other type of green pepper
4 anaheim peppers
some sort of salad mix
In my 4-year-olds section of the garden, he has his christmas grape, a tight cluster of peas, a zucchini or pumpkin or something? and a few corn stalks here and there.